The benefits of using a massager at home
June 14 2021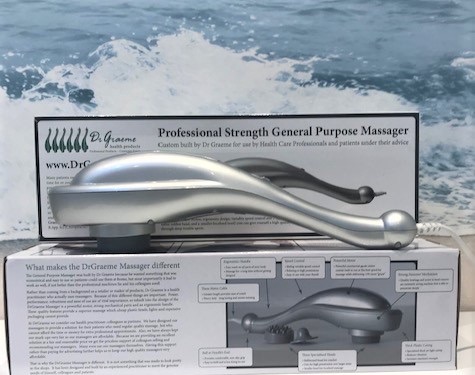 Massagers to use at home
You may have experienced a vibration massage in the centre as part of your treatment, but did you know you can purchase a massager from the centre to use at home? We were so often asked about whether patients could benefit from using a massager at home, we knew they could, so we sourced a reasonably priced and easy to use massager that we would feel confident recommending to our patients.
Do at home massagers work?
Vibration massage is a highly effective therapy used by professionals. It does not require specialist skills so is perfect for self-use.
However, poorly designed low quality massagers with inappropriate instructions can mean people don't feel the benefit. The Dr Graeme massager that we stock was developed by a chiropractor for use in clinics and at home it also comes with a 12-month replacement warranty.
What does a vibration massager actually do?
At the proper frequencies, vibration stimulates the muscles and increases blood flow. This can have many benefits on your road to recovery from injury or to help you keep fit and well.
The benefits of vibration massage
Relaxing tight muscles
Massage can help relax tight muscles and restore movement and reduce pain, it can also help to inhibit cramps and spasms
Increased blood flow
There has been alot of scientific research done on the effect of vibration massage on healing, ranging from bone fractures through to muscle and nerve repair and increased blood flow to aid healing.
Exercising
If you are exercising the vibration massager can decrease post excercise muscle soreness.
Benefits for health and wellbeing.
Alongside the physical benefits of massage, regular massage can also reduce stress and anxiety, and improve sleep quality and wellbeing.
Click here for a guide to the scientific benefits of vibration massage.
How to use the massager
To use the massager it is best to place a cloth, towel or clothing over the area to be massaged to prevent irritation. Then simply sit the head of the massager on the affected area and let the vibrations do the rest! Hold the massager in place for around 30 seconds, your chiropractor can help with any timing or usage guidance.
The massager comes with an instruction booklet and the Dr Graeme website has lots of instructional videos and guides to ensure you get the best from your vibration massager.
Dr Graeme massagers are available to purchase from Newbury Chiropractic Centre.
Call 01635 48088 or email [email protected] for more information.